We will provide all of our children with a broad, relevant and enriched curriculum so that they have the character to make a positive contribution to our society and are knowledgeable, skilled and ready for the next phase of their education.
At Abbey Mead Primary Academy, RE is challenging, inspiring, fun and multi-sensory. Learning is completed through different media; such as, discussions, dance and drama as well as written work. RE is taught as an individual discipline which focuses on providing the children with key knowledge and skills related to specific religions. It is practical where possible, teaching is supplemented with trips to places of worship or visits from people from religious communities. We want children to be able to describe and explain, with confidence, their personal ideas about religion, beliefs and spirituality.
Subject Policies/Plans
Subject Leader/s
Sophia Sidyot and Iram Bukhari Subject Leads
Impact
Teachers regularly post amazing examples of RE on our Abbey Mead Twitter feed. Have a look at our twitter feed and the document below to see fantastic learning in action.
Celebrating festivals is key at Abbey.
Holi
Below are some fantastic pictures of children, staff and parents joining in to celebrate the Hindu festival Holi. This festival involves throwing coloured powder at one another to celebrate the arrival of Spring. It is a festival which allows people to meet, have fun and laughter, forgive and forget and repair broken relationships.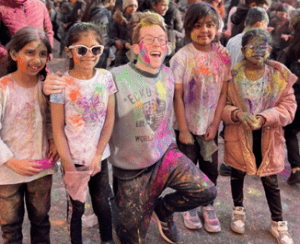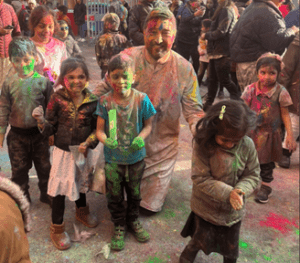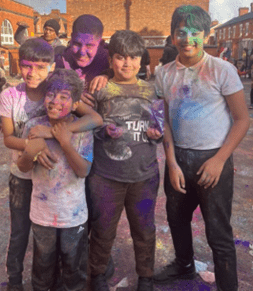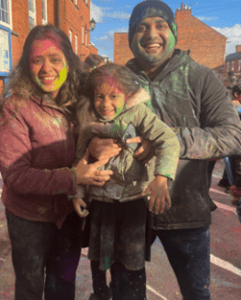 Diwali
At Abbey Mead, we thrive in ensuring that all festivals are celebrated throughout the year. Each year group will take part in one performance to showcase parents and the school. Here are some wonderful pictures of our 2022 Diwali show where the Year 4s put on a wonderful play that tells us about the story of Diwali. We also had some beautiful dancing from the KS2 dance group and some great singing from the Year 6s.